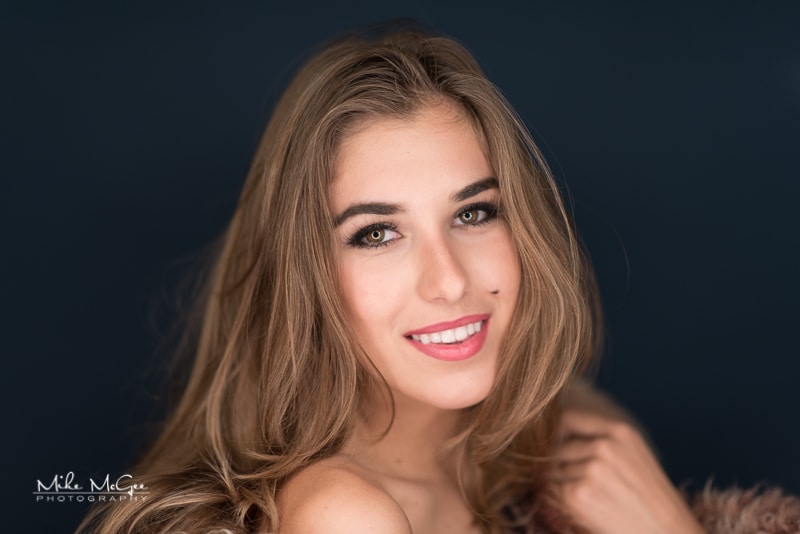 Background: Ultramarine. Model Credit: Olga Sigmundson.
Anyone that knows me, knows I'm a huge fan two things: 1. My DIY ring light that I made from scratch, and 2. Various seamless paper colors as backdrops for portrait and headshot photography.
For some background, my ring light was created from a mix of online tutorials and YouTube clips I found online. Even though I made mine much smaller, the core principles were taken from Dani Diamond's ring light tutorial on F-Stoppers. Excellent tutorial!
As for the seamless backdrop paper, the variety of colors I have offer an inexpensive way to completely change the mood of any portrait or headshot. To me, this is especially important for headshots. This variety allows me to change backdrops quickly based on the wardrobe, mood, or emotion I'm trying to pull out of a portrait. All of my backdrop colors are purchased from Savage Universal, and I can't recommend them enough.
My latest seamless backdrop paper I added to the mix was the "Ultramarine" color from Savage Universal. What jumped out at me with this color was the fact that it's a dark blue/teal color infused with lots of gray. This is exactly the type of color I gravitate toward when using my ring light and shooting portraits with a shallow depth of field. The dark tones of the backdrop really work well to coincide the light falloff when I move the model a few feet away from the background. It also gives me the option of brining in more color by just positioning the model closer to the background. For headshots in particular, this type of setup doesn't require much space, and offers great flexibility when shooting.
One of my favorite colors to shoot with is Savage's Thunder Gray, and although they may not appear to be connected, I wanted to show some examples of shooting with headshots with both Thunder Gray and Ultramarine. To test out Savage's "Ultramarine", I enlisted the help from an extremely talented model for the day, Olga Sigmundson.
Here is the simple behind the scenes setup:
Here are some headshot examples of Olga Sigmundson using Ultramarine:
Here are some headshot examples of Olga using the same lighting setup and the Thunder Gray backdrop:
The difference in the background color is subtle, but distinct to my eye. I could have inserted more background color into the portraits by positioning the model closer to the backdrop. However, in this case, I wanted her to almost glow from the ring light, with just a hint of noticeable color behind her, with a largely dark background. The Ultramarine fit the bill, and I'm extremely happy with it.
Want to learn more about a photoshoot or have a question?
Interested in a photoshoot? Just use the contact page here to email me with any photo session ideas you may have. If you are interested in portraits or headshots, I shoot professional portraits and professional headshots both outdoors with natural light and/or strobes, or in my San Francisco Bay Area-based photo studio with a wide variety of backdrops and lighting options for many types of projects. Whether you need fashion photography, portrait photography, yoga or fitness photography, headshot photography, an online dating profile photographer, beauty headshot photography, artistic extreme colored gel hypercolor portraits, product photography, modeling digitals for agencies, or anything in-between, I offer various packages for many budgets. I look forward to hearing from you. Let's shoot!
---